Reports

Project Scholarship

About KRCG

Big Lick Trail Reopened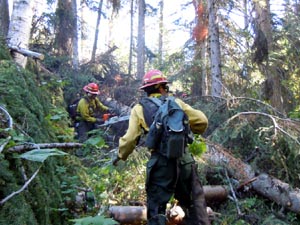 Curlew Job Corps Instrumental in Opening Historic Kettle Crest Trail
Republic, WA.
The historic Big Lick Trail in the Kettle River Range was finally cleared of a maze-like tangle of downed trees that had made it completely impassable even to the most rugged outdoors person. Volunteers from Kettle Range Conservation Group and Curlew Job Corps Forestry students put in a herculean effort requiring seven days and 366 person hours to clear 5.5 miles of trail of many hundreds of downed trees that in some locations were piled into twisted trunks and branches over 7 feet deep. Read more:
CLICK HERE
---
The perfect gift...protecting Wilderness
Consider giving a gift membership to Kettle Range Conservation Group. Your gift will help protect the last wild places in the Colville National Forest and support Project Scholarship. Plus your gift is tax deductible.

You can purchase a gift membership by using our secure PayPal account. Please click this link:


Join KRCG

.

Plus you can download and print a special KRCG gift card to present to your friend.

Click here

.

Thank you!
---
Annual Fundraising Auction a Big Success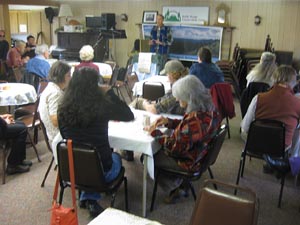 Oct. 27 marked the 36th annual fundraising auction for KRCG. Many long-time and new members attended the silent and live auction held at the Republic Parish Hall. Local and regional artists, businesses and individuals donated a wide range of auction items.Musician Mark Rhodes set the tone with renditions of a variety of classic songs. Attendees enthusiastially bid on live and silent auction items and help raise thousands of dollars to support our student scholarships and conservation programs. If you missed the auction and would like to make a one-time special donation to our projects please click
HERE.
---
Kettle Range Conservation Group helps stop the South End ORV Project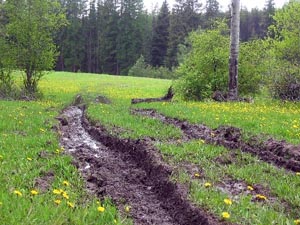 The Colville National Forest Supervisor decided to withdraw the previous decision to implement the South End ORV Project. We're awaiting details on what this means, but for now we consider it very good news.
To those who helped us spread the message about our concerns with this project, thank you very much! It's a relief to know that, at least for now, the Forest Service has decided not to open substantial areas of road and trail to motorized recreation without first having the resources available to provide quality ORV trails, stop illegal riding that harms resources and the quiet of the backcountry, and restore areas damaged by abuse. KRCG supports the opportunity for all recreation users, but no one has the right to abuse our public lands. Click here for the rest of the story.
---
2012 Project scholarship awards $1,000 to Republic high school seniors
Kettle Range Conservation Group awarded a $1,000 college scholarship to Christina Beckwith and Iris Summy both of Republic at the Republic High School 2011 graduation ceremonies. Since 1996, Kettle Range Conservation Group's Project Scholarship has contributed over $40,000 in scholarships to seniors from Ferry, Stevens, and Okanogan counties.


Project Scholarship Pays Off. Read about scholarship awardee Sarah Kliegman successful completion of her PhD...with the help of Kettle Range Conservation Group. Click here.
---
Kettle Range Conservation Group History
During our 35 years of conservation work we have met many challenges facing our national forests and rural communities throughout northeast and north central Washington.
Our longest running campaign to protect national forest wilderness in the wild and un-roaded backcountry of the
Kettle River
Range
,
Okanogan
Highlands
and
Selkirk Mountains
continues today.
Kettle Range Conservation Group's Board of Directors manages a small endowment that provides annual college scholarships to graduating high school seniors. Project Scholarship has awarded close to $40,000 in scholarship grants to northeast Washington students since 1996. Please consider a donation to Project Scholarship today. One-hundred percent of your donation goes to students and is tax-deductible to the full extent of the law.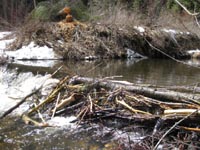 Beaver dam
in the Columbia Highlands

---
HighlandsNews
Journal of the Kettle Range
Conservation Group
Now On-line
Click Here
---
Made in
Ferry County
with
solar power


---
Independent Study on Impact of Northeast Washington Forestry Coalition (NEWFC) Blueprint

At the request of the Northeast Washington Forestry Coalition, Headwaters Economics conducted an examination of northeast Washington's communities and economy to determine the possible impacts of the "Blueprint" proposal for managing National Forest lands in the region.

Click here to review the results at the Headwaters Economics website.